Hello, we're Randalls
Randalls Fabrications have an excellent track record in providing compaction solutions to waste management problems, including waste containment and a marked reduction in container exchanges.
The proven design and quality manufacture of Randalls Simpak compactors ensures efficient operation and minimal maintenance. The Simpak range includes a multitude of designs for various requirements such as restricted space, portable, traversing and mechanical feeding.
About Us
We are a member of CHEM
(Container Handling Equipment Manufacturers Association)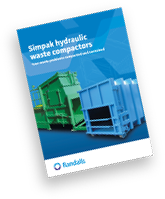 Download our brochure for more information